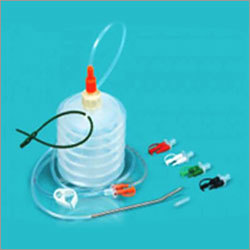 Product Description
Description:

Close Wound Suction Unit is utilized to maintain ventilation as well as oxygen therapy in the time of suctioning in mechanically ventilated patients.
Reduces the chance of Ventillator Associated Pnemonia (VAP).
Kit is available with three conveniently replaceable catheters, minimizing the requirement to replace whole suction system every 1 to 3 days.
Catheter with smooth tip, lateral eyes, and depth markings for ensuring maximum comfort level of the patient.
MDI port provides an effective, easy and quick way of drug delivery.
Irrigation port comes with one way valve allows irrigation and lavage of the suction catheter.
ON/OFF valve permits suction catheter tip to be separated and makes an enclosed cleaning chamber.
Clear connectors and long lasting sleeve ensures catheter manipulation and avoids infiltration of sputum and blood.
360o swivel elbow allows rotation for increased patient comfort level and decreases torque.
Disposable / Sterile / Individually Packed.
Size:
| | | | | | | |
| --- | --- | --- | --- | --- | --- | --- |
| SIZE[Fr.] | 6 | 8 | 10 | 12 | 14 | 16 |
| O.D [mm] | 2 | 2.7 | 3.3 | 4 | 4.7 | 5.3l. |
| D[mm] | 1.4 | 1.8 | 2.4 | 2.8 | 3.2 | 3.8 |
| Length[mm] | 300 | 300 | 600 | 600 | 600 | 600 |
| Color code | Pea green | Cambridge blue | Black | White | Green | Orange |
Contact Us
Shop no.7, Public Weigh Bridge Compound, Plot No- 313 Phase 2, Vatva Gidc,, Ahmedabad, Gujarat, 380061, India
Phone :+918068096630